"Unidad" (means "Unity" in Spanish) is a personal project which I started in 2008. Based on an alternative reality where collaboration replaces competition and society builds in peace and consciousness for overall profit.
/
Unidad es un proyecto personal que comencé en el año 2008. Está basado en una realidad alternativa en donde la colaboración sustituye a la competición y la sociedad construye en paz y conciencia para el beneficio global.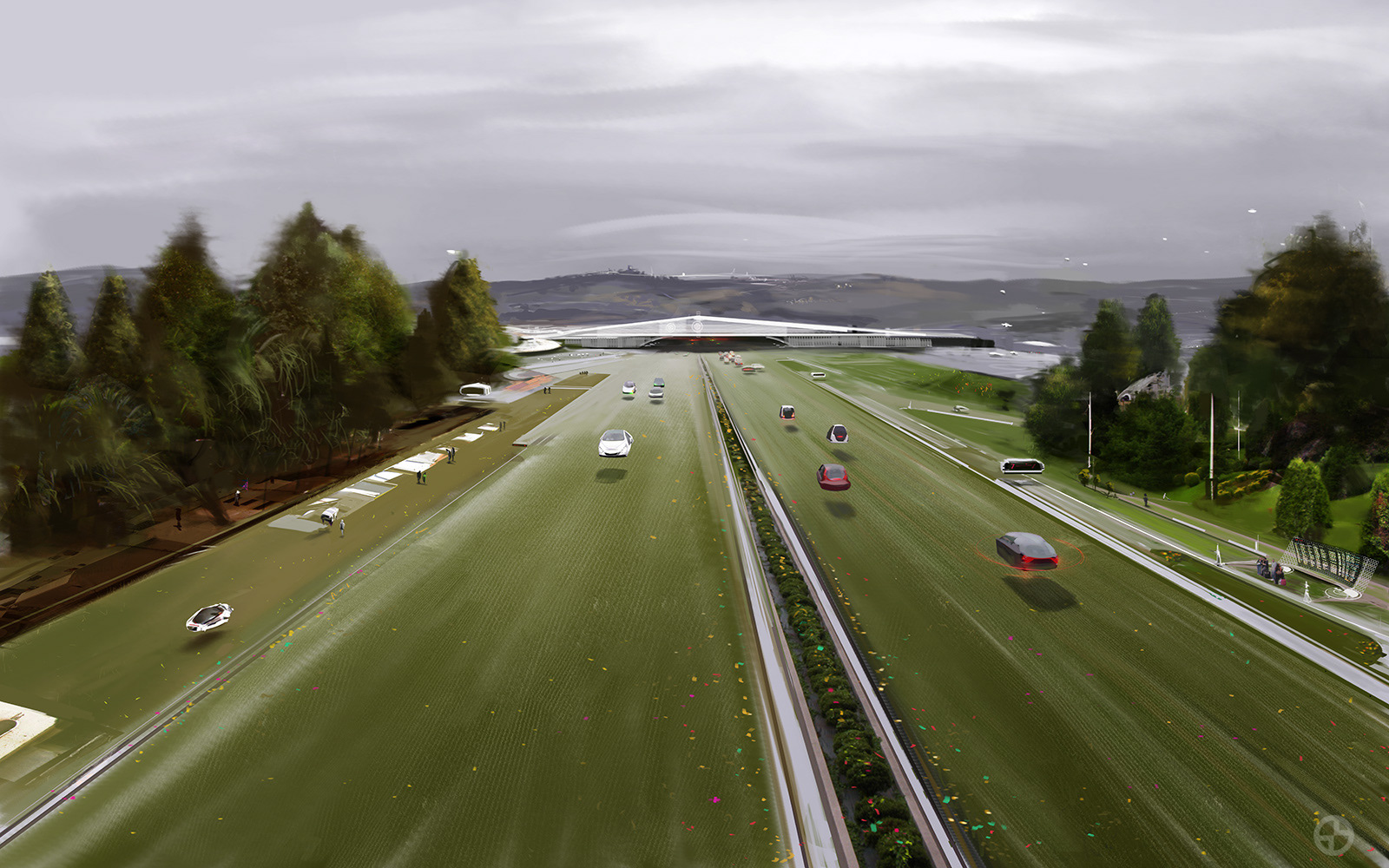 ▲

Green Road

, Digital Painting / Pintura Digital. 2013 ▲
I created this concept thinking about a future where the humankind builds a society with consciousness, changing the old roads into green ways.​​​​​​​ / 

Creé este diseño pensando en un futuro donde el ser humano construye una sociedad con conciencia, cambiando las viejas carreteras en vías verdes.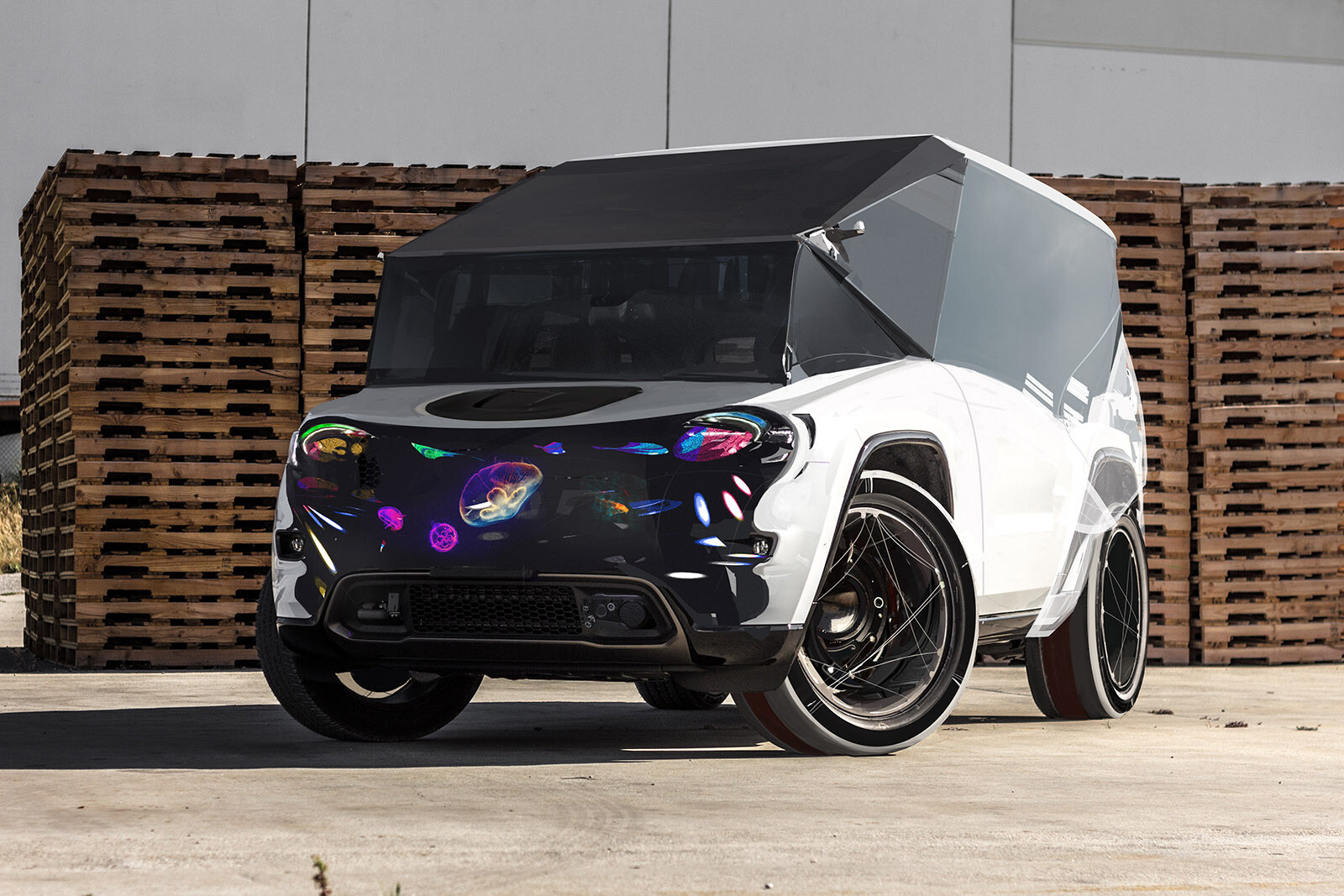 ▲

Biga Concept Car

, Digital Painting / Pintura Digital. 2019 ▲
The front bodywork of this car is like a screen where images, videos or notices can be seen. I did this with the idea of spicing up the bodywork beyond its function. A kind of "creative bodywork".

The Biga steering wheel is a computer in itself, made with a translucent material and touch-sensitive. Inside it, indications or warnings show when necessary. For example, the driver of the image goes at a speed of 90 km per hour. Inside the steering wheel a speed limit warning appears. This warning sign shows on the area where the driver holds the steering wheel as a visual reinforcement so he can be aware of slowing down

.

/ El frontal de la carrocería del Biga es una pantalla o monitor donde se ven imágenes, vídeos o avisos.  Esto lo hice para darle vida a la carrocería más allá de la función que tiene. Una propuesta de "carrocería creativa".

El volante del Biga es un ordenador en sí mismo, fabricado con un material translúcido y sensible al tacto. Dentro de él aparecen indicaciones o avisos cuando sean necesarios. Como ejemplo de esto puedes ver en la imagen que el conductor va a una velocidad de 90 km/h y en el volante aparece un aviso de límite de velocidad. Este aviso aparece en la zona donde el conductor está agarrando el volante como refuerzo visual para que sea consciente de que tiene que aminorar la velocidad.​​​​​​​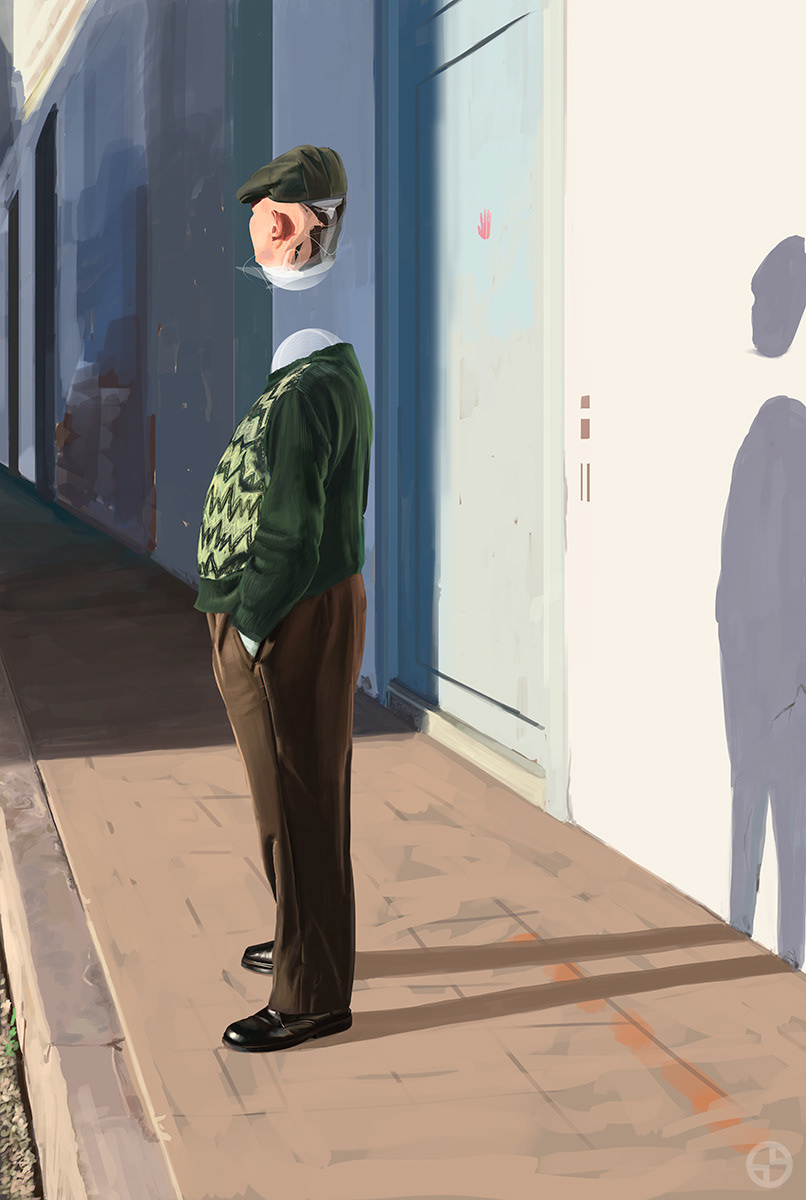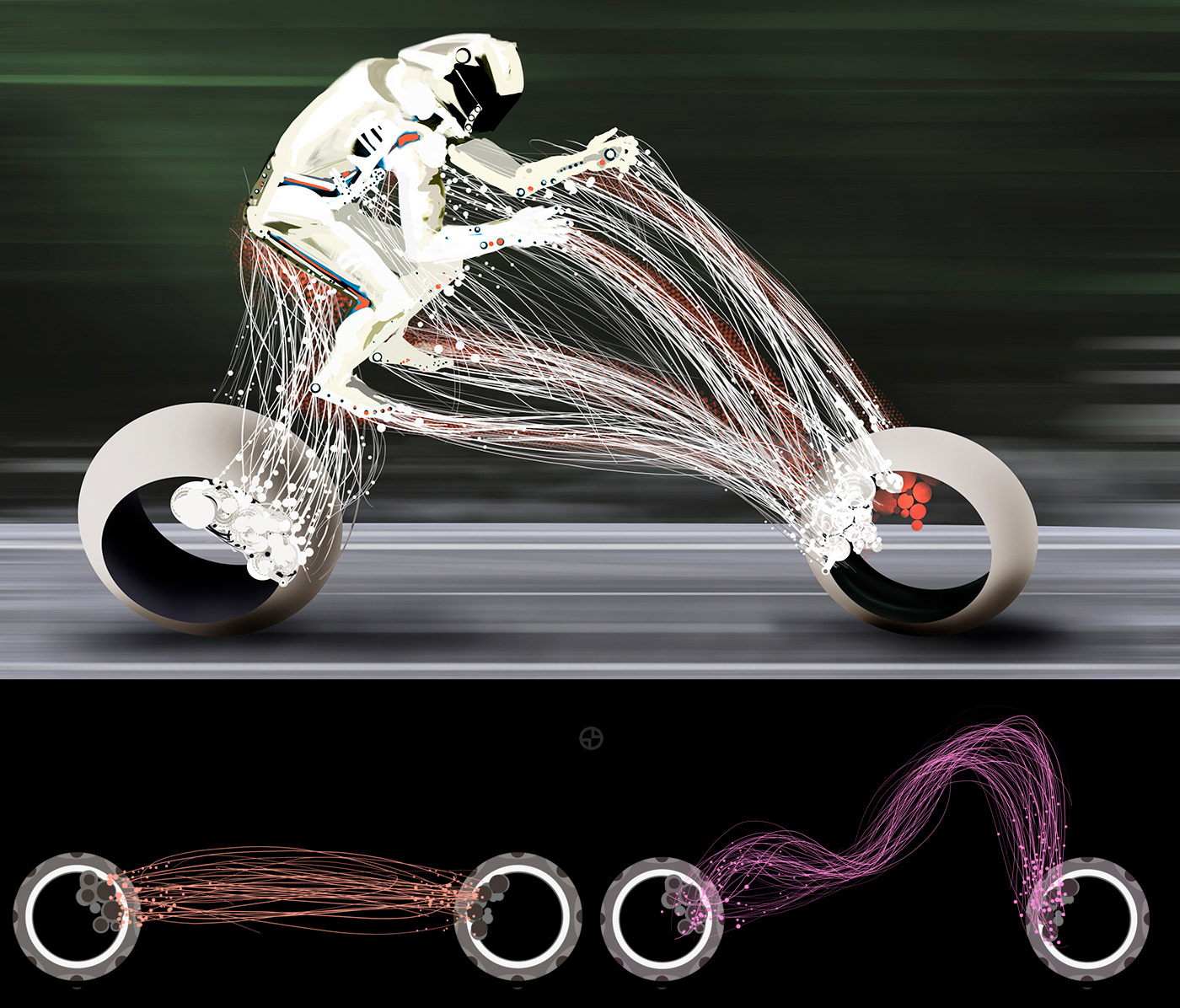 ▲

Tendon bike

, Digital Painting / Pintura Digital. 2011 ▲
 The body of this bike is made by a material similar to a muscle, with special features and artificial intelligence which is capable of changing the flexibility,shape and hardness of it. The pilot wears a special suit which is connected to those kind of fibers. The energy to move this bike is given by the road. A road made by a special material which conducts enough energy and reacts when the bike touches it.The wheels have some energy receivers so there´s no need for an engine. This material can be used to create many different vehicles, buildings, roads and so on.​​​​​​​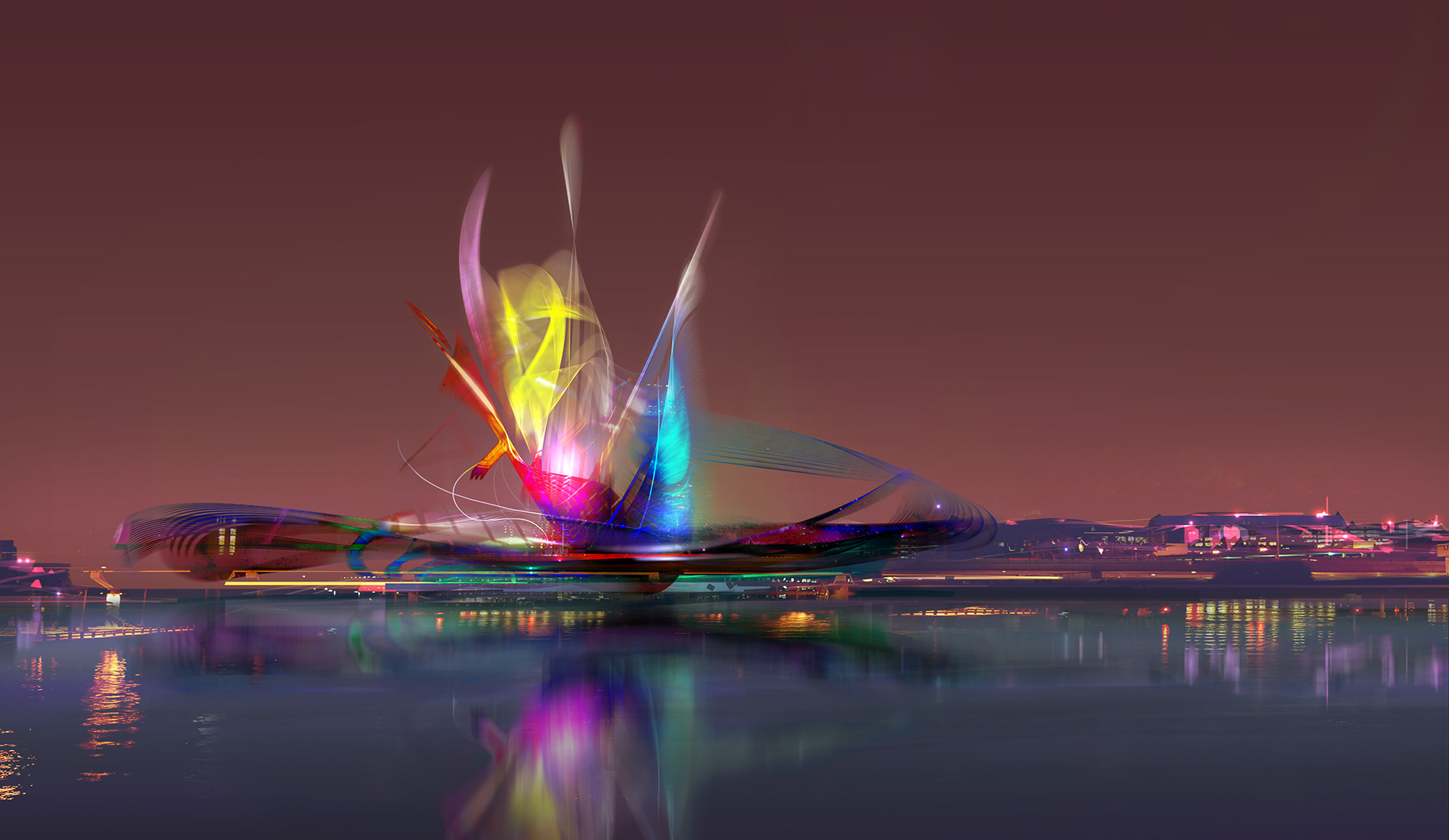 ▲

Organic-a

, Digital Painting / Pintura Digital. 2013 ▲
The facade of this bulding is in constant changing. Organic architecture, intelligent, alive, in movement. Natural architecture. / Construcción cuya fachada esté en constante cambio. Arquitectura orgánica, inteligente, viva, en movimiento. Arquitectura natural

▲

Hárnidas

, Digital Painting / Pintura Digital. 2011 ▲
The Harnidas are intelligent machines without crew which were designed to bring life to different places. In this case, the mission of those machines is to transform the Moon in a habitable place. This kind of wires which are connected to all the machines brings the necessary components and nanotechnology to make the Moon another place to live in. / Las Hárnidas son máquinas inteligentes sin tripulación que fueron diseñadas para llevar la vida a diferentes lugares. En este caso, su misión es la de transformar la Luna en un lugar habitable. Este tipo de cables que están conectados a todas las máquinas traen los componentes y la nanotecnología necesaria para hacer de la Luna otro lugar para vivir.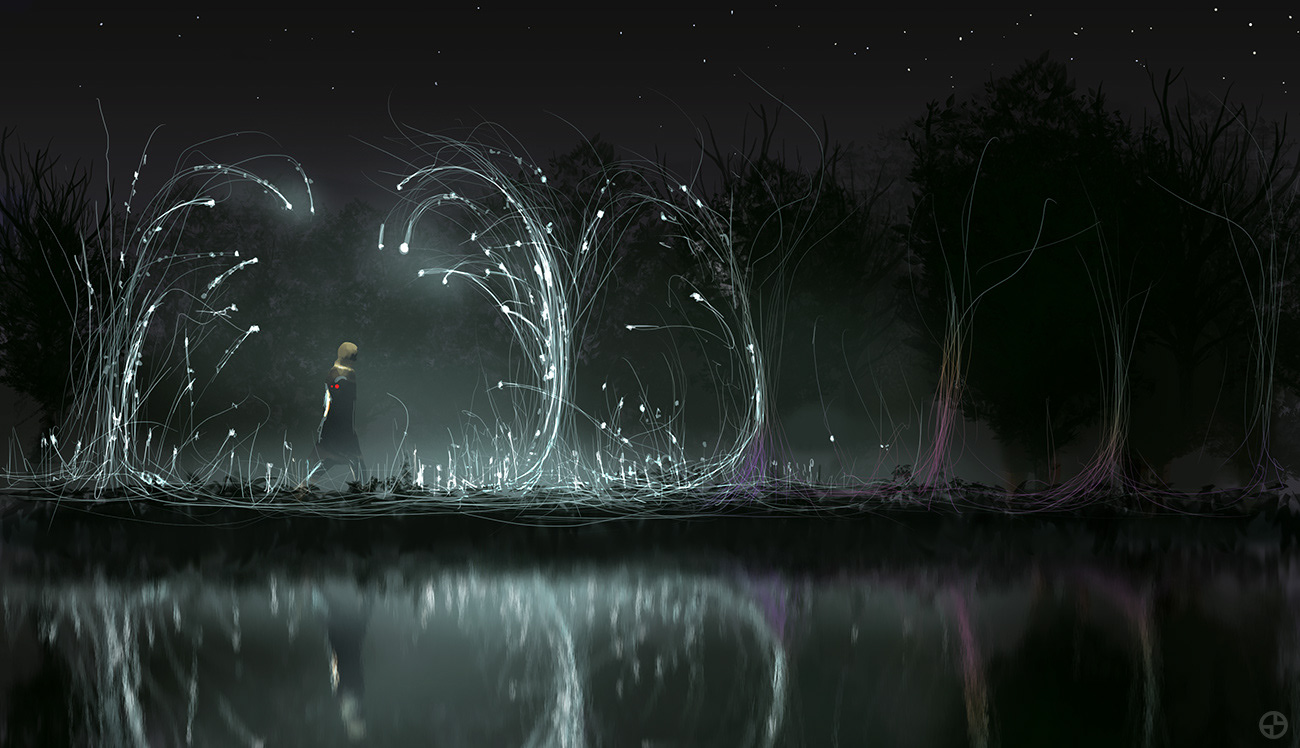 ▲

Streetlights

, Digital Painting / Pintura Digital. 2011 ▲
Lighting system made of smart materials which illuminate the place only when somebody walks between them. This system has been designed to eliminate light pollution. During the day this system is hidden and captures daylight to work at night. / Sistema de iluminación formado por materiales inteligentes que alumbran la zona sólamente cuando alguien camina por ella. Este sistema fue diseñado para eliminar la contaminación lumínica. Durante el día, las "farolas" están escondidas, capturando la luz diurna para funcionar de noche.
▲

Apces

, Digital Painting / Pintura Digital. 2008 ▲
"Apces" are self-governing machines which are huge generators, storing the electricity that generates the water by itself. After that, they move to the areas where those energy are needed. / "Apces" son máquinas autónomas que a la vez son enormes generadores. Captan la electricidad que genera el agua por sí misma y luego se mueven a las zonas donde esta energía es necesaria.